"Oh Danny Boy, the pipes, the pipes are calling"
---
They say that only the good die young. Well what about the legendary? What about the ones that had all eyes on them, that captivated us with every performance? I suppose that they too are not above dying young. Buddy Hield was no ordinary player. He had to fight just to get where he was when he left us way too soon. It's hard to believe that it was four years, 137 games, and 4,182 minutes ago that Buddy first stepped onto a court wearing crimson & creme. It all seemed to go by so fast, then all of a sudden…
Did it surprise me when I found out how Buddy was killed? No not really. A player of his magnitude deserves a death as historic as he was. It was not a clean death, in fact it was a (44 point) massacre at the hands of the Villanova Wildcats. Naturally it came immediately after Max and I had predicted the Sooners to do great things in the Final Four, that OU was cut down before our eyes. It was not quick, but long and painful. I had to look away by the end of it. Of course Hield refused to go down without a fight, firing back a total of 12 times throughout the battle, but alas the chosen one was only able to land 33% of his shots on the Wildcats.
Again, I wasn't surprised that Buddy left us in the fashion that he did. In all honesty he probably had it coming. Regardless of what you heard about him, he was a criminal on the hardwood. He killed so many other teams' hopes and dreams since the start of the 2015/2016 season. The most recent being his merciless beating of the University of Oregon Ducks in the Elite Eight, as displayed below:
However, the Ducks weren't his first victim this year. He also crushed LSU's hopes of an upset in Death Valley, where he led the Sooners back from a 14 point deficit and lit up the Tigers in the second half by draining seven threes. This set up teammate Isaiah Cousins to hit the go ahead jumper with four seconds left.
Then there was the time that he ripped out the heart of arch-rival Texas with a buzzer beating three after the Horns were in control for a majority of the game.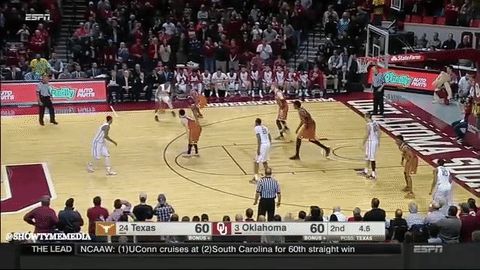 Of course there was his 46 point explosion against the number 1 team in the country, against Kansas, AT KANSAS. Alas, it would not be enough to escape with a win in the Phog, but it was enough to send the game into triple overtime and give us one of the best college basketball games of all time.
Before his passing, Hield made his name known in the month of March. He dropped 39 against Iowa State to move on to the semi-finals of the Big 12 tournament. Then the following game he gave us one of the best half court buzzer beaters that was .01 seconds away from counting.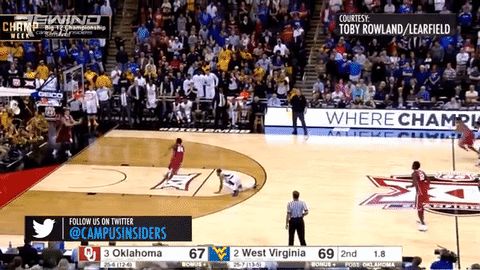 I don't think a play better summed up Hield's departure from this plain of existence. A play that was so good, and so close, but alas it fell short and it left us all heartbroken.
Hield showed us all that college basketball can still be one of the most entertaining sports, outside of the month of March. He showed us that the future of college basketball doesn't have to be just a bunch of one and done's. Buddy was a player straight out of the 80's and 90's. A player that continued to improve year after year and made the most out of his time in college. He never let the allure of the NBA put a damper on his competitiveness. If only all good players saw the game of college basketball the way that he did.
Then again, I guess it is true. Only the good die young. No matter how legendary you are, no matter how loved you are by fans, you are never safe from death's cruel sting.
Goodnight sweet prince. May we all find solace in the fact that you are now in a better place…unless you get drafted by Brooklyn.