With the NFL Draft just a few days away, we have decided to put out draft profiles for your enjoyment, in case you aren't familiar with all of these names that will be called on Thursday. We will be covering some of the big names as well as some of the lesser known names that could be called in the first round of the NFL draft. We continue the series with Myles Jack. The Inside Linebacker out of UCLA.
After an injury shortened 2015 season that limited him to only three games, junior ILB Myles Jack declared for the NFL draft.  With concerns over his health Jack stands as one of the riskier players in the draft. Though, his flashes of greatness in college make drafting the young prospect an intriguing possibility for many team. The only question that remains is which team will roll the dice on Jack come Thursday night.
Myles Jack grew up in Bellevue, Washington where he attended Bellevue High School. During his senior season Jack accumulated 98 tackles and 14 sacks leading his team to a 14-0 record and a state championship. Myles was considered the 16th best outside linebacker in the 2013 recruitment process. Along with garnering a four star ranking. Before deciding to attend UCLA, Jack held offers from FSU, ASU, Stanford, Wazzu, and Utah.
During his college career Myles Jack was an extremely versatile athlete playing at both linebacker and running back. At running back, Jack amassed 387 yards on the ground and 11 rushing touchdowns in 68 carries.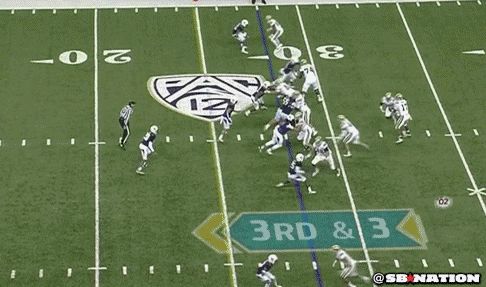 As good as Jack was as a running back, it pales in comparison to his defensive abilities. In his three year career he collected a total of 178 tackles with 117 being solo. Along with 15 tackles for a loss, one sack, and four interceptions.  While these numbers are not overwhelming, keep in mind Myles only played 29 games in his college career. For his impressive abilities on both sides of the ball, Jack received the offensive and defensive rookie of the year awards for the PAC-12. Jack was limited to only three games in 2015 after tearing his lateral meniscus in his right knee. He has not played football since succumbing to that injury.
Pros 
Super athlete. Myles possesses plus plus strength and speed will allow him to make plays all over the football field.
 Will go out and give 110% from whistle to whistle.
Best tackler in the draft.  Doesn't just tackle guys, he makes them pay for having the ball.
Jack will be a versatile player that can be placed and excel at a multitude of position. Will be useful in pass rush, run stop, and coverage of TE and RBs.
Cons 
Concerns about his long term health could be a turn off for many teams. High risk to have a career ending injury at any moment.
Some concern that Jack does not having the prototypical lower body to be an NFL caliber LB.
Looking at his film it is hard to not fall in love with Myles Jack's elite ability as an athlete.  He shows all the signs of becoming a dominant linebacker in the NFL. If he can stay healthy, Myles will be a top defensive player in the league. Though, his bad knee could lead to the end of his career at any moment. Many teams may think to play it safe and avoid Jack early in the draft, but I think his skills are too good to pass up. I don't expect him to fall out of the top ten, though if he does he will certainly be selected quickly in the teens.
Myles Jack to the Cleveland Browns 8th overall. 
Feature image provided by: sbnation.com