With the NFL Draft being today, we have decided to put out draft profiles for your enjoyment, in case you aren't familiar with all of these names that will be called on Thursday. We will be covering some of the big names as well as some of the lesser known names that could be called in the first round of the NFL draft. We wrap up the series by discussing TCU's record breaking receiver, Josh Doctson.
---
Of all of the prospects in this year's draft, I have the closest connection to this one since we both went to the same school. I have gotten to see Doctson play first hand for the past three years, and if you didn't already know, the guy is a darn good football player. The former two star recruit, turned wyoming transfer, turned walk on at TCU, turned record holder, turned all american, turned potential first round draft pick *finally exhales* this guy has been on quite the journey.
Strengths
Nobody in this draft has better body control while in the air than Doctson. He is a magician when the ball is in the air. He can turn his body around while dominating the corner in front of him. He's shown that he can beat double coverage, and also bail out his quarterback on a bad throw if necessary. He has deceptive speed, with his tall frame he is able to make long strides down the field, especially along the sideline.
He is a very humble guy that goes out on the field and gets the job done. He doesn't have any character concerns and is the definition of class.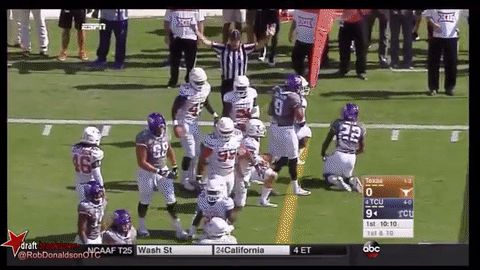 In the clip above you can see what I am talking about. Quick of the line of scrimmage, Doctson runs down the side line, turns his head and sees his QB hurtling the ball towards him. Just like a power forward awaiting the alley oop from his point guard, Doctson times his jump, twists his body to the ball, and beats his man in the air. Oh and he scores a touchdown, so that was neat as well.
Weaknesses
Some scouts will point to his age (22) and say that he's already reached his ceiling. I disagree, because when playing professional football becomes your life, you tend to get better at it. However, he isn't as good of a blocker as Treadwell and he doesn't have that immediate burst that Coleman has. Again, each of these receivers is better at certain things that the other. There isn't a consensus God-like Julio Jones receiver in this year's draft. That doesn't mean none of them will make good pros.
Selection Prediction
Doctson could be the first receiver taken in this draft, all personal bias aside, but I think that it's more likely that he'll be taken in the early twenties. WITHOUT any trades, I have him going 24th overall to the Bengals who really need to replace their wide receives after losing their #2 and #3 options in free agency. Doctson grew up idolizing AJ Green, so it's only fitting that he gets to play side by side with Green. Goodness what a duo that would be. Prayers for opposing secondaries would be necessary.
featured image: Christian Petersen/Getty images