With the NFL Draft just a few days away, we have decided to put out draft profiles for your enjoyment, in case you aren't familiar with all of these names that will be called on Thursday. We will be covering some of the big names as well as some of the lesser known names that could be called in the first round of the NFL draft. We continue the series with Jalen Ramsey. The cornerback/safety out of Florida State.
---
There are 3 things that are certain in life: Death, taxes, and Jalen Ramsey being a star in the NFL. Of all of the players in this draft, Jalen Ramsey (and Myles Jack) may be the closest to a sure thing in regards to being able to be an impact player right from day 1. We'll get to Jack later, but for now let's focus on Jalen Ramsey.
He's arguably the most versatile player in this draft, he's arguably the best player in this draft, and if the Rams hadn't traded up for a quarterback then he may have been the #1 overall pick. During his time at Florida State he played a little bit of corner and safety during the first two years, then this past season he slid into a more permanent spot at corner. He defended 9 passes in his final season, caused a fumble, at one point the average passer rating of quarterbacks throwing Ramsey's direction was 39.9 (that's lower than low), and he only allowed 2.9 yards per catch on a catch rate of 38%…GOOD.NESS.
Strengths
He was a track star, excelling in sprinting and the long jump. His physicals have scouts captivated, seeing as he has drawn the occasional comparison to Deion Sanders, but his best strength is his knowledge of the position. You can most likely attribute this to his history of playing both safety and corner. He always knows where the ball is on the field. He can play physical and snuff the absolute life out of a receiver. He is a master of press coverage (maybe I should bring him on as contributor) and can cover the field horizontally with his speed, or vertically with his leaping ability allowing him to bat passes down. He's got the size, he's got the mindset, he's got the football IQ…he is just really really good.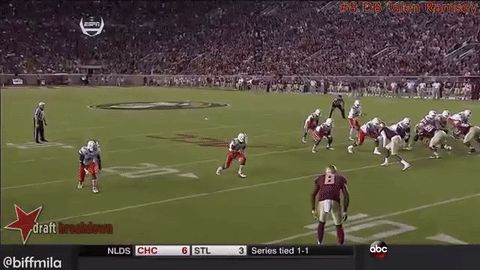 The clip above summarizes a lot about Ramsey's strengths and weaknesses as a player. He starts off on the outside receiver, but then he spots the running back that comes out of the backfield as a receiver, picks him up while reading the eyes of the quarterback and makes a play on the ball. Sadly he drops it, even though it was a pretty impressive leap, but again he displays his football IQ and how quick he can think on his feet during crunch time.
Weaknesses
In my eyes, Ramsey only has to work on improving two things: his tackling and his hands. He tends to rely too much on his upper body when making contact with the opposing team, and in the NFL where players are larger, faster, and stronger Ramsey would be run over if he tries to tackle like this. However, this can easily be fixed with proper coaching, which if he goes where I think he will go, he will get just that.
Some people point out his lack of turnovers during his college career, something similar to those criticisms of Mackensie Alexander. Again, my response to that is that the reason why he didn't have that many turnovers was because quarterbacks rarely threw in his direction, BECAUSE HE WAS COVERING THE LIFE OUT OF THE RECEIVER. I will say that there were some open interceptions that he did drop, but hey that's why you play corner and not receiver right? Or because you're really good at it…to each his own.
Selection Prediction:
Ramsey will be a top 6 pick at worst. He is rated as the #1 defensive back on almost all of the draft boards, and is listed as one of the top 3 prospects in this year's draft, along with Bosa and Tunsil. I would have him going to the Chargers at #3, but because of how bad San Diego's offensive line is, and how much they value the time that Phillip River's has left, I say that they take Tunsil. That means (holding my excitement and squealing) Jalen Ramsey will be wearing a silver and blue star on his helmet next year, and be playing for the Dallas Cowboys. If the secondary gets snake bitten again, then Ramsey can share reps at safety, similar to what Byron Jones did last season. Jerry Jones spent years building up the Dallas offensive line, and it appears that he is now focusing his attention towards the secondary. So without any further adieu…
Selection: Dallas Cowboys, 1st Round, 4th overall
Featured Image: courtesy of seminoles.com