If you watched the NFL Draft last night, you missed another night of amazing NBA basketball. The Pacers and Heat staved off elimination to force winner-take-all Game 7's, and the Trail Blazers moved on to the second round for just the second time in sixteen years by putting the Clippers out of their misery after an injury-riddled campaign. Here's a deep dive into last night's games and look ahead to the action in all of the other playoff series.
Toronto Raptors (Eastern Conference No.2) vs Indiana Pacers (Eastern Conference No. 7) – Tied 3-3
At the half, the Toronto Raptors held a 44-40 lead over the Indiana Pacers. All they needed to do was maintain that cushion, and they would be on their way to a Round 2 match against either Miami or Charlotte. Then, the second half hit, and the Pacers went on a 61-39 run to end the game, which resulted in a 101-83 Indiana victory.
Once again, the Raptors' All-Star guards Kyle Lowry and DeMar DeRozan both struggled last night. DeRozan shot a putrid 3-13 from the field with just eight points, and Lowry shot a meager 4-14 from the field with ten points.
Raptors' backup point guard Cory Joseph looked like he was the starter, as he shot 4-6 from the field and scored 15 points. Honestly, Joseph looking better than both Lowry and DeRozan, which isn't that surprising when you think about it. Joseph spent the first four years of his career playing for the San Antonio Spurs from 2011 to 2015. During Joseph's time in San Antonio, he experienced many deep playoff runs, including an NBA championship in 2014. For Joseph, rising to the occasion and ignoring the pressure of the playoffs is no big deal. For guys like Lowry and DeRozan who haven't tasted the second round of the playoffs and have suffered upset losses in round one of the playoffs each of the past two years, self-doubt and nerves definitely seem to creeping into their minds. The Raptors as a franchise haven't won a playoff series since 2001, which is the longest active streak in the entire Association.
The Raptors simply haven't developed the mental fortitude that comes with winning in the playoffs, whereas the Pacers have a number of veterans who have experienced playoff success in addition to their young guys and rookies like Myles Turner. Paul George and George Hill are some of the few remaining players on the Pacers' roster that made back-to-back runs to the Eastern Conference Finals in 2013 and 2014. Pacers' guard Monta Ellis was part of the No. 8 seed Golden State Warriors who upset the top-seeded Dallas Mavericks in 2007, a year after Dallas won the Western Conference. Ellis has also made other playoff runs with the Milwaukee Bucks and the Dallas Mavericks.
When teams have the veteran leadership like the Pacers have, they don't go down without a fight. Contrast that approach to the Raptors, who seem to drop their heads when something goes wrong. For example, Jonas Valanciunas dropped his head after the Raptors defended the Pacers for the entirety of the 24-second shot clock but gave up a put-back tip in on an offensive rebound. Little signs like that reveal a lack of confidence that permeates throughout the entire Toronto team.
It's still unbelievable that this series has reached a Game 7 because it's extremely rare that a No. 7 seed hangs around with a No.2 seed. Usually, there's an immense talent gap between the rosters of teams who are separated by eleven games in the regular season win column. Toronto has the better roster, but Indiana simply doesn't give up or go away.
I wouldn't be surprised if Toronto won Game 7 because it's in Canada; however, I'd much rather be a fan of the Pacers right now. While the Raptors have the capability to win Game 7, but I think Indiana will win the series in a tightly-contested Game 7 on Sunday.
Miami Heat (Eastern Conference No.3) vs Charlotte Hornets (Eastern Conference No. 6) – Tied 3-3
If you missed this game last night, I'm so sorry. This 97-90 Miami Heat victory was a lot closer than the final score indicated. Kemba Walker channeled UConn-Kemba Walker, as he led all players in scoring with 37 points. Dwyane Wade had a vintage performance, scoring 23 points on 50% shooting from the field.
Unfortunately for Walker, Al Jefferson and Cody Zeller were the only other Hornets who scored in double figures. Jefferson finished with 18 points, and Zeller finished with 12 points. Wade's teammates did step up their performance, as Luol Deng erupted for 21 points on 9-14 shooting, while also shooting 75% from the three-point line. Goran Dragic, Hassan Whiteside, and Joe Johnson all scored in double digits, as Dragic finished with 14 points, Whiteside finished with 12 points, and Johnson finished with 11 points.
Hornets' starting forward Marvin Williams didn't score at all, while shooting 0-7 from the field, and bench spark-plug Jeremy Lin scored just eight points because he was battling foul trouble all night and finished with five fouls in the game.
Despite the disappointing performances by the majority of Charlotte's roster, they still hung around because of Walker's superb play.
However, there was no stopping Wade in the final minute of the game, as he hit a deep three-pointer to put Miami up 93-88, hit a step-back midrange jumper to push the Heat back up to five (95-90), and blocked a Kemba Walker layup with 14 seconds left to clinch the win for Miami and force a Game 7 back in their house.
Ultimately, this series and Game 7 could go either way. It's highly improbable that Charlotte has poor shooting performances from 12 of the 15 guys on their roster, and it's very possible that Kemba goes off again and scores 30 or more points.
This is a well-matched series and could be won by either team. Teams seeded three through six in the Eastern Conference all have identical 48-34 records with seeding being decided by multiple tiebreakers. The Heat will likely win because Dwyane Wade will not stand for being upset in a home Game 7, but don't be surprised if Kemba takes over and wins the series all by himself.  Game 7 is on Sunday.
Los Angeles Clippers (Western Conference No. 4) vs Portland Trail Blazers (Western Conference No. 5) – Blazers Win 4-2
2016 just wasn't the Los Angeles Clippers year. From losing Blake Griffin for most of the year with quad and hand injuries to Chris Paul breaking his hand in Game 3, to Blake Griffin re-injuring his quad, and DeAndre Jordan rolling his ankle with just a few minutes left in Game 6, these Clippers were doomed from Day 1, as they lost to the Portland Trail Blazers 106-103.
Even backup-turned starting point guard Austin River suffered an injury to his face after being elbowed in the first quarter.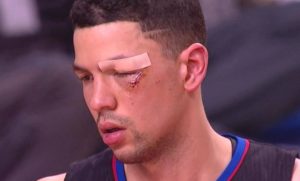 Rivers had seven stitches above his eye and four stitches below his eye. Despite his stellar, one-eyed performance where he finished with 21 points on 8-of-19 shooting with eight assists and six rebounds, the Blazers were just the better team because of the health of their roster.
Portland's dynamic duo of Damian Lillard and the NBA's 2016 Most Improved Player,  C.J. McCollum scored 48 points, with Lillard scoring 28 and McCollum scoring 20.
Even though Lillard and McCollum lead the way in the scoring column, it was Trail Blazers' center Mason Plumlee who put the finished off the game and the Clippers' season. Plumlee, a 64% free throw shooter, hit both of his free throws with 14 second left to give the Blazers a 105-103 lead, and then he corralled the game-sealing rebound after a Jamal Crawford miss with one second left.
Hats-off to Crawford, who scored a game-high 32 points off the bench, but with Portland hitting ten of their fifteen second-half three pointers, 32 points just wasn't enough.
What a year it's been for the Blazers, as they had to replace four of their five starters from 2015, as Wesley Matthews, Nic Batum, LaMarcus Aldridge, and Robin Lopez left for the Mavericks, Hornets, Spurs, and Knicks respectively.
Not only did Portland fill in the holes around Lillard, they found a budding star in McCollum. For the Clippers, this offseason will be one filled with regret, as they held a 2-0 lead on Portland before the injury bug depleted their roster, and their potential Round 2 opponent, the Golden State Warriors, who are playing without league MVP Stephen Curry.
If there was ever a year for the Clippers to make the Finals, this would've been it. Instead, Portland has the pleasure of facing another team who is without their All-Star point guard. If there is a team that deserved a few lucky bounces to go their way, it's these Trail Blazers.
On to Round 2
Golden State Warriors (Western Conference No. 1) vs Portland Trail Blazers (Western Conference No. 5) – 0-0
This series tips-off on Sunday in Oakland with Portland looking to take advantage of the Stephen Curry-less Warriors. Golden State hasn't ruled out a Game 2 return for Curry, but head coach Steve Kerr said, "There's obviously not much a chance [that he plays]." Even without Curry, the Warriors are loaded, and All-Stars Draymond Green and Klay Thompson are fully capable of carrying the team against the Trail Blazers. Expect a tight series, but the Warriors won't allow it to last longer than six games.
Cleveland Cavaliers (Eastern Conference No. 1) vs Hawks (Eastern Conference No. 4) – 0-0
The Atlanta Hawks are marching into Monday's Game 1 showdown with Lebron James and the Cleveland Cavaliers red-hot after consecutive blowouts of the Boston Celtics to advance to Round 2. With Cavaliers point guard Kyrie Irving leading all players in playoff scoring at 27.5 points per game, LeBron averaging 22.8 points per game, and Kevin Love averaging 18.8 points per game, the Hawks will have a hard time defending all three of Cleveland's big guns. Expect a fight from Atlanta, but Cleveland will return to the Eastern Conference Finals after five or six games.
San Antonio Spurs (Western Conference No. 2) vs Oklahoma City Thunder (Western Conference No. 3) – 0-0
Today is the day. Game 1 between these two Western Conference heavyweights tips-off tonight. This series could go either way, but the Spurs have too many weapons with Kawhi Leonard developing into a true two-way superstar this year, growing his offensive game by leaps and bounds, in addition to offensive dynamo LaMarcus Aldridge scoring with ease in the paint.
While Kevin Durant and Russell Westbrook are both phenomenal superstar basketball players, their supporting cast just isn't up to par with Leonard's and Aldridge's. Tony Parker, Manu Ginobili, Tim Duncan, Boris Diaw, David West, Patty Mills, and Danny Green make up the Spurs' group of "other guys", while Andre Roberson, Serge Ibaka, Enes Kanter, Stephen Adams, Anthony Morrow, and Randy Foye make up the Thunder's group of "other guys."
Give me San Antonio's supporting cast every day of the year. Spurs in seven.
Featured image source: Sam Sharpe, USA Today Sports